Are you finding the best music streaming app development company to start your own music streaming app? While there are many music streaming app development companies working in this market, this article covers those that have proven themself with excellent work in this music-related application development. By definition, music streaming apps are apps that allow users to stream and listen to their favorite music on their mobile devices. Music streaming apps have algorithms that sort songs, albums, and playlists based on user searches. Every entrepreneur and individual likes to work with the best app development companies for their music streaming application development. With many companies in the market offering the same services, finding the best one can be challenging. Fortunately, people are conducting their research and writing about the best streaming app development companies to help individuals find the most suitable one for their projects.
Here is the list of 7 Best Music App Development Companies
#1 – App Development Force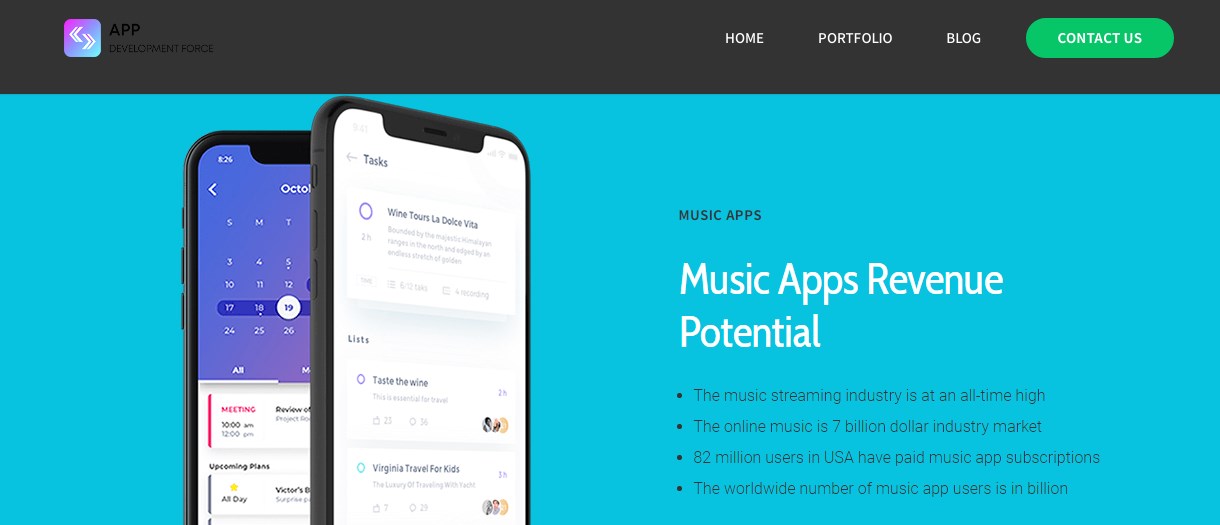 App Development Force tops this list for an obvious reason. Our team has worked on many music streaming app development projects. The App Development Force team directly works with artists, labels, and music entrepreneurs to convert their brief into a music streaming app. App Development Force provides complete cycle music app development services and is renowned for its stunning app design and custom development work. They have experience in coding core music streaming app features like streaming, offline listening, playlists, music sharing, and others. If you are looking to work with a reliable music streaming app development company work with an app development force.
#2 – Coding Pixel
Coding Pixel is backed by a workforce of hundred backend and frontend developers with expertise in developing custom apps in many micro niches including music. In fact, they are superbly good in music streaming application development and it is one of their team's core strengths. They take deadlines very seriously and focus on building mobile applications that look good and get users. Their app engineering team develops both iOS and Android apps with perfection. They can make apps like Spotify, Pandora, and Apple Music. Their music streaming app development service is targeted at music companies that want to showcase the best application to their end users. With a state-of-the-art development center and proven expertise in the app industry, Coding Pixel delivers make than 30 apps each year.
#3 – Cubix
Cubix team built custom apps for enterprises and startups in almost every industry. They are well known for converting new app ideas into actual applications. With decade long experience in building music streaming and entertainment apps, this company is principled in handling music streaming app development projects. They have been in the industry from well over 14 years and their team is fully competent in building apps for enterprises. From app design to app testing they do everything with perfection and leave no stone unturned to achieve perfection. Cubix has done more than 600 app development projects to date; they know the art of making stunning music streaming apps.
#4 – InvoZone
Be it an entertainment app or music streaming app, InvoZone app developers excel in developing such apps. They offer end-to-end mobile application development services, including music streaming app solution development. Their app developers have in-depth knowledge of building music streaming applications and lyrics apps. They have a team of 500 app developers who can handle a project be it a simple or complex application. Most of their app developers are senior level app developers therefore you can expect good quality and reliable work from this company. They also have illustrators, and animators on their team so you can expect good animation work in your music streaming application.
#5 – Chetu
Chetu is an INC500 fastest growing software development company based in India and USA, Their frontend and backend development team makes custom software, web applications and mobile applications for enterprises and startups. Chetu team has built many music and audio software applications for their corporate clients and entrepreneurs. This company has more than a thousand developers making them one of the biggest software companies in the world.  The company has won countless awards for its exceptional work in the software development industry. Their expertise in creating music libraries and music database apps makes them a suitable choice for music streaming app development. Their developers can code apps that can manage enormous collections of music files.
#6 – Devabit
Devabit is a Ukranie based music streaming applications development company that can make any type of music streaming app because they are entrepreneurs at heart. Their team is best in digital product engineering, UI/UX design and app programming. They commit to clients to be there till the launch of their music streaming application. Their expertise is mostly in software development, and 3D product visualization. This company can have gained deep industry knowledge by working with music producers, and music companies. They do a precise analysis of project requirements before building a digital product.
#7 – Codal
Codal is another emerging full-stack development app agency that design, develop and market music streaming applications. They are experts in coding music streaming, music, and webinar applications. Their technology stack includes Kotlin and Swift for custom web applications and mobile streaming application development. They have a 100% in-house team to handle app development projects effectively and deliver the best output. The Codal team knew how to code music streaming apps efficiently. They make future-ready applications to give their clients a real competitive advantage. They have a hunger to build extremely proficient music streaming applications and web portals.
Concluding Thoughts
In general, it can be said that the top 7 music streaming app development companies listed in this article are all capable of handling music streaming app development projects, for more information you can consult with our team.

Jess is a Technical Content Writer at App Development Force with a remarkable 15-year journey in mobile applications development and technology consulting. Holding a PhD in Mobile Computing, he has contributions to research, development, and technological leadership.